Most altcoins are struggling to recover from the recent decline in the price of Bitcoin.
Prices for Safemoon (SAFEMOON), Dogecoin (DOGE), and Ravencoin (RVN) all suffered sharp losses during this week's cryptocurrency crash. Most altcoins followed the decline in the price of Bitcoin, which reached a high of $52,000. Safemoon price reached a low of $0.00000154, Dogecoin tested a seven-day low of $0.24, and Ravencoin fell to $0.11.
Safemoon price
SAFEMOON reached an intraday low of $0.00000151, and the decline was driven by the recent crash of the cryptocurrency. The price is now below the 50 and 100 simple moving averages on the 8-hour chart.
The bearish outlook for SAFEMOON price is manifested by the decline towards the Bollinger Bands support curve. The RSI and MACD are also heading negative to add credit to these expectations.
If the price declines, the next support will be around the $0.00000134 area.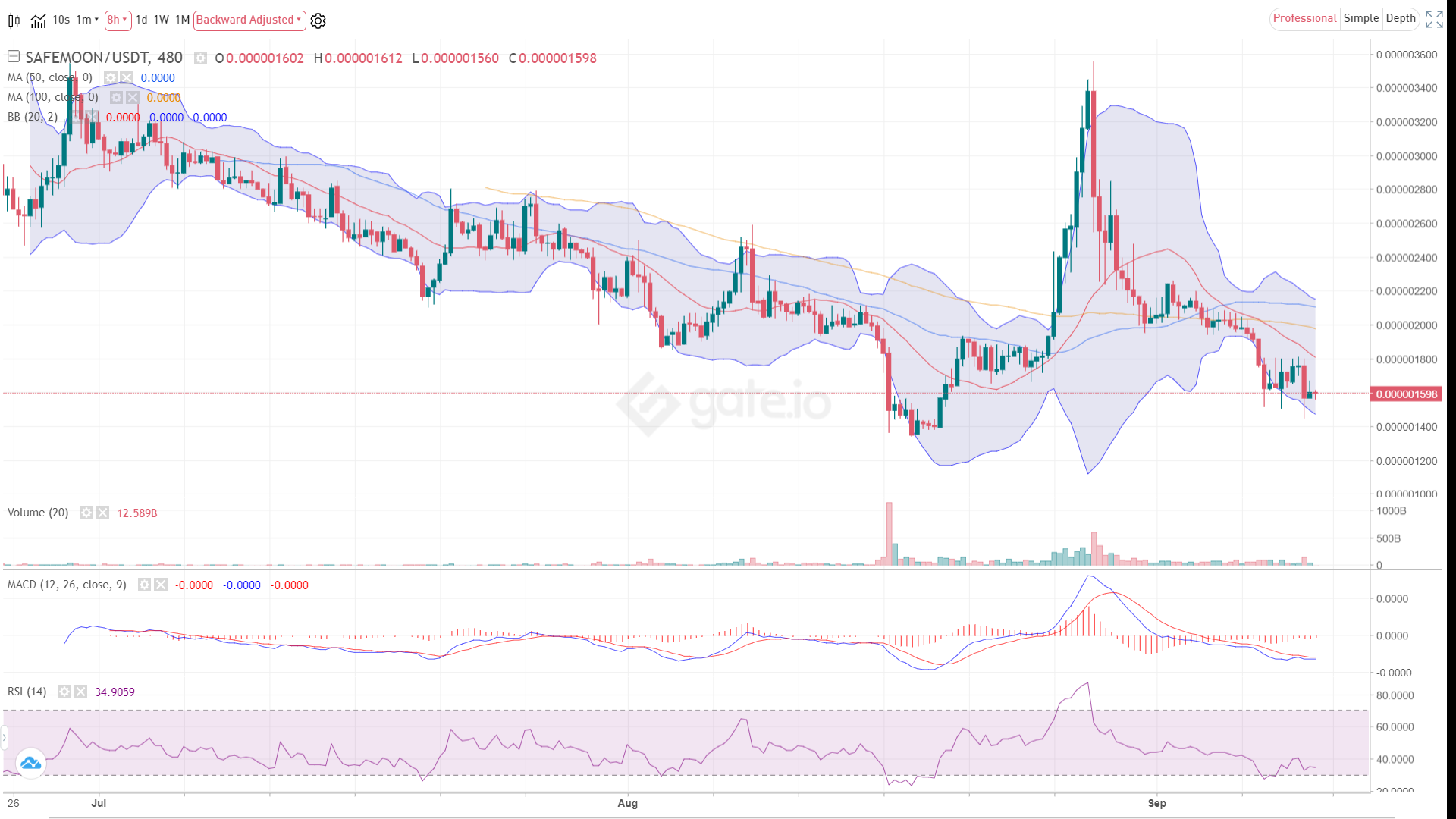 SAFEMOON/USDT 8-hour chart. Source: Gate
On the upside, the bulls in SafeMoon are facing tricky obstacles at the midline of the Bollinger Bands ($0.0000181) and then the 100 SMA at $0.00000198.
Dogecoin price
Dogecoin price is trending green on the 4 hour chart, with the potential for an ongoing reversal, hinted at by a bullish 4 hour MACD crossover. The upside should clear the resistance at $0.26 (horizontal green line) for a scenario that allows for a new target at the 50 SMA ($0.28).
At the moment, this possibility faces a major obstacle at $0.25, and the ascending triangle pattern indicates further losses. The RSI below the 50 mark and the 50 sloping SMA curve add to this possibility.
If the DOGE/USD pair falls, the bulls can count on the initial support at $0.24. However, the price could drop to $0.20.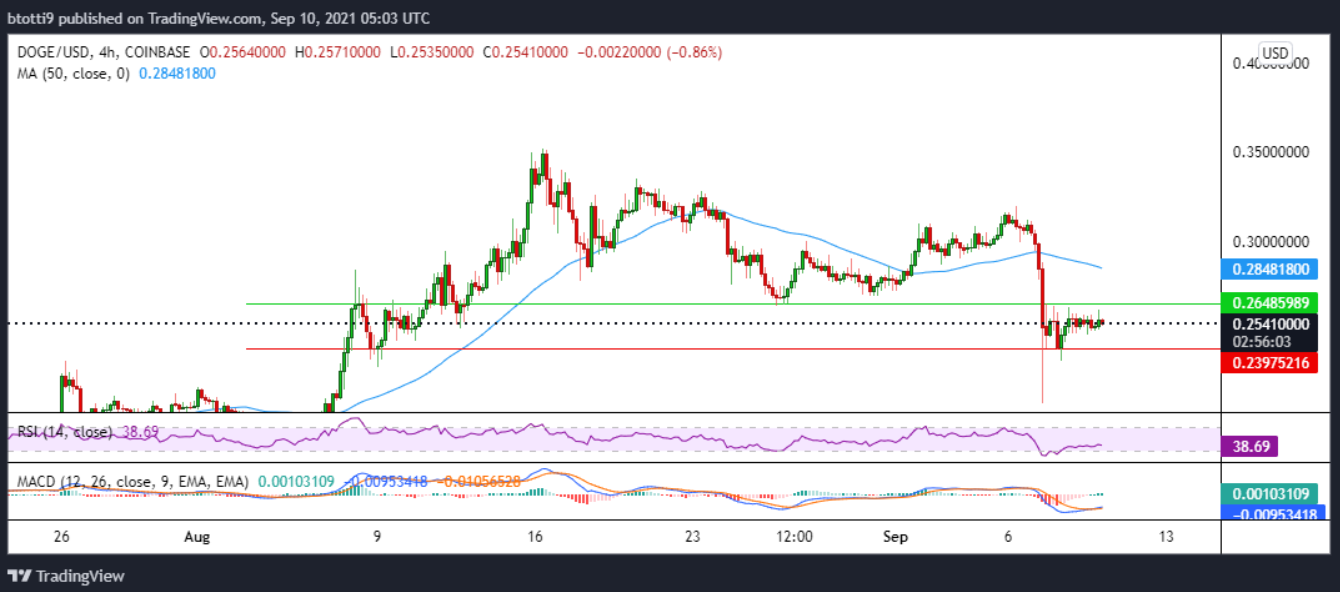 DOGE/USD 4 hour chart. Source: TradingView
Check out the How to Buy Dogecoin page here
Ravencoin price
RVN price is currently located near $0.12 on the 4-hours data chart, and selling pressure is not helping bullish attempts to break above the barrier, as evidenced by increased sales volume.
The drop in the RSI below the equilibrium level and the negative outlook for the 20 EMA curve indicate that a downward path is more likely over the next few days. In this case, RVN/USD may fall to the support levels around $0.10.
On the upside, the MACD indicates that the upside has its chances. If RVN/USD breaks above the distinct horizontal barrier, continued momentum above the 20 EMA ($0.12) will open bids at $0.13 and $0.14.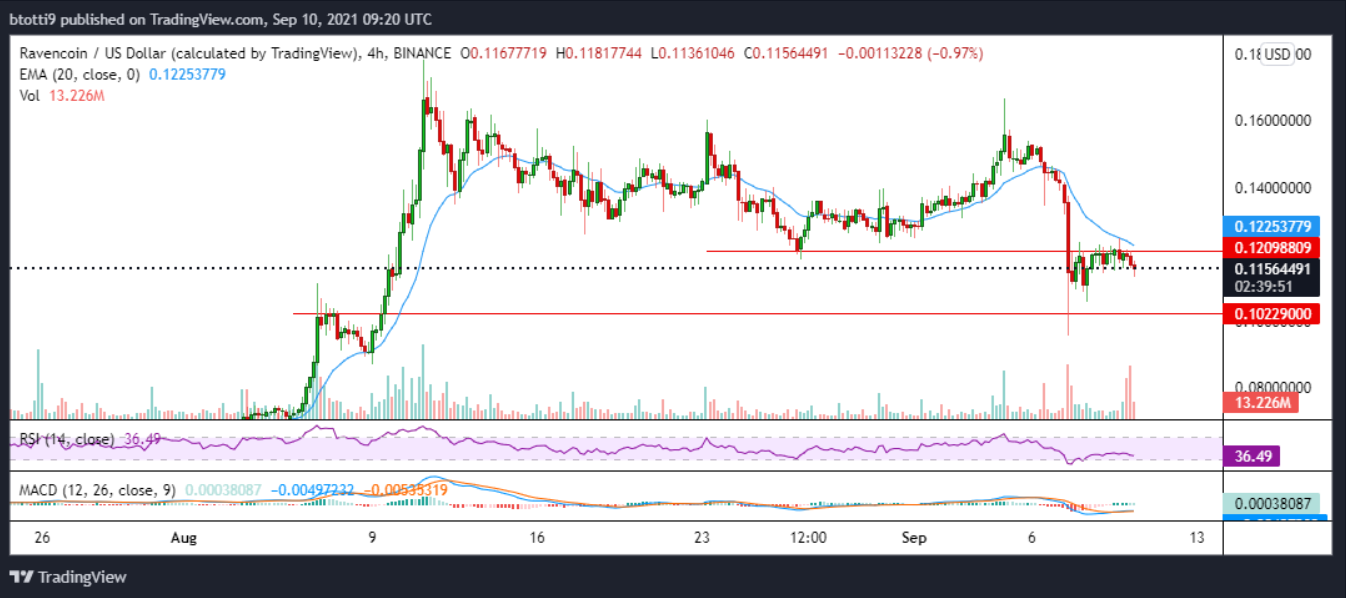 4 hour chart for RVN/USD. Source: TradingView